Hello everyone. have good and bad news in this update, so i'll just write through it all chronologically.
First of all, Stephen and I were married!!! We only had exactly one month to plan the wedding, but God worked everything out amazingly and it was so beautiful! I couldn't have asked for a better day.
I'm working on getting a photobucket album of the pics up for those who wish to look through them.
The video of the ceremony can be found
here
. (there are 3 parts) Our friend who officiated our ceremony did such a wonderful job, it was short, sweet, and pointed to our Lord.
There are so many crazy stories about this wedding and I'm actually thinking of writing me and Stephen;s whole story because the whole thing could only have been orchestrated by God!
One crazy stunt at the wedding though is our beloved Groomsmen. lol, they were such a kick!
All too soon, my USMC husband had to fly out to Japan where he is currently stationed. We once again learned how to communicate even though we are 16 hours and over 5,000 miles apart. It's tough sometimes (especially when I had to get up at 2am if wanted to talk!) but we worked it out.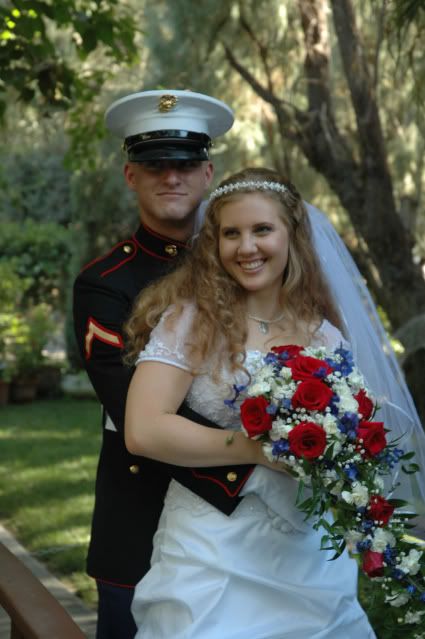 There's no news yet on paperwork processing if I'll be able to actually live with my husband in Japan! Right now, they're saying it would be a miracle for it to happen, but I believe in miracles, so I'm still hoping I get to go. I'm planning on visiting in December and can't wait to see my husband again!
I also got a job on a independent Christian feautre film, so I'll be living mostly in Virgina for the next three months working on the movie as a production offcie assistant. :)


But, along with much joy, there also comes sorrow.
Last week, we found out we had been blessed with a honeymoon baby. I got to enjoy feeling pregnant (aka lots of nausea and eating like a horse) for three days.
Monday night, I started bleeding and on Tuesday, August 17, I miscarried our baby.
My body has been doing what it's supposed to do through this situation, and is healing fine. My heart though will never be the same as you can imagine. It's been tough on both of us, but at the same time, we would like to share how great our God is. HE was totally with me the whole time through all the pain and agony, both physically and emotionally. He gave me comfort, let me know that he has my child now and is taking care of him for me, and even though I may never understand why, He has a reason for this, and most importantly HE IS IN CONTROL. In that, I have found so much joy and peace and even though I am really really really bummed out, and am grieving over the loss of my child, at the same time, am so incredibly happy because of I know Jesus is Lord.
A verse that helped me through this was Psalm 16:8-9. 8
"I have set the LORD always before me. Because he is at my right hand, I will not be shaken. Therefore my heart is glad and my tongue rejoices; my body also will rest secure,"
Even though this little one was only a few weeks old, I definitely know there was a life. (And yes, I do know for sure this was a pregnancy and miscarriage, but will not be posting the details here.) We decided to name the baby Isaac Joy Marts, because Isaac means laughter, and even though we are sad, we totally trust God and can still laugh and rejoice in HIM. I can't wait to get to heaven even more now because there I'll get to meet a special person I didn't get to know here!
Thank you to all the people who were paying for us, and prayer is still very much appreciated.
So that's been my life for the past few weeks! Hope you all are doing well and always, always trust Jesus. HE IS LORD!